About Friends of Roundwood Primary ("Friends")
Friends is Roundwood Primary School's Parent Teacher Association. We are a group of parents/carers from across the school, whose main aim is to raise vital funds for the school, and to bring staff, parents/carers and children together to have fun and to build and maintain a vibrant school community. All parents/carers are automatically members of Friends when their child joins the school. Thanks to the wonderful support of our committed parents/carers and the local community over the years, Friends have successfully raised hundreds of thousands of pounds for the school. This money has been invaluable in funding many projects that enhance the children's education and help to create the happy environment that makes Roundwood Primary such a special place.
The Friends Committee
We are a registered charity (charity number 295958) run by a committee of volunteers. The Friends Committee meets once or twice a term to discuss fundraising needs, plan events and other activities and to set up working groups for events (usually in an evening over a glass of wine…). New members are always very welcome, so do please get in touch with us if you would like to come along to a meeting, are interested in joining the committee or an event working group.
Class Reps
Class Reps are the link between parents and Friends and are vital in promoting and supporting our events. Each class usually has one or two class reps. As well as arranging regular class social events class, reps also help to organise a rota of volunteers for our parent stalls at the Christmas/Summer Fairs. Reps are warmly invited to join our committee meetings to share any feedback or thoughts, but it is not compulsory! Being a class rep is a great way to meet other parents and support the school.
Our events
We hold a number of events each year, such as:
Christmas & Summer Fairs/Festivals;
Sponsored walks;
Children's discos;
Children's Popcorn & PJ Nights
Children's Christmas Lunch
Parents/carers Quiz Night
Book Fair
Second Hand Uniform Sale & Cake/Ice lolly sales; and
The May Ball (once every two years).
This is a non-exhaustive list and we are always open to new ideas, and people who want to run with such an idea!
Access for all children to our events
Whilst one of our aims, when organising events such as the children's discos, movie and bingo nights, is to raise money for the School, we also work hard to ensure that the children are offered access to events that they will enjoy and remember.
Children in receipt of Free School Meals will always be welcome to come to those events and will not be expected to pay to attend. Please liaise with the School Office if this applies to you, and we will ensure that your child(ren) receive(s) their ticket or event details in the same way as everyone else.
Second Hand Uniform
We aim to hold a second hand uniform sale every term, donations of good quality clothing or other school accessories (bags, trainers, etc.) are always welcomed. Please contact Claire McShee via friendsofroundwood@gmail.com to make a donation or if you are in urgent need of uniform outside of sale dates.
How much did we raise last year?
In the financial year ending 2022 with your help we raised almost £62,000!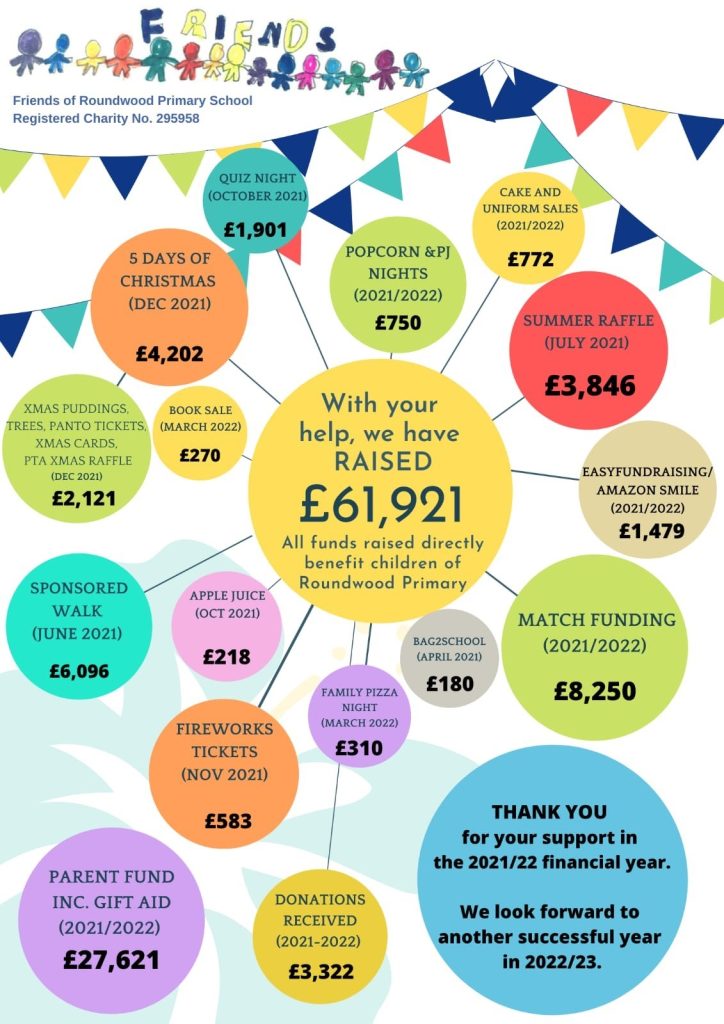 What does your money do?
The funds raised by Friends are used directly to benefit the children by providing equipment to support the children's education and/or educational experiences that would not be funded elsewhere. We speak with the school to find out what is needed and we also act on suggestions from parents/carers. All expenditure is approved by the school governors. Just some examples of projects/items we helped to finance recently include:
The acquisition of 22 brand new desktop computers (for use across the school) delivered in 2022 (funded through proceeds from the May Ball and fund matching);
Forest school;
Interactive Whiteboards;
The KS1 playground;
An inner porch for the school entrance (increasing security and the safety of children, staff and visitors); and
Online learning tools such as Abacus.
But Friends funds also go towards ongoing provisions such as:
Our School librarian and library books;
Music teachers;
Vital upgrades to the School IT systems; and
Classroom materials, subscriptions, stationery and other resources.
Thus our work doesn't just support the extras, it is a vital part of the daily running of the school and the provision of a varied and inspirational learning environment.
What can you do?
We are always in need of volunteers to help with fundraising and other Friends activities. Without the help of volunteers, our events simply cannot take place – so we urge our parents/carers to please get involved! Not only is getting involved fun, but it is also a great way to meet other parents.
If you would like to help out – whether your interest is in joining the main committee, helping to organise a specific event (kids disco, a fair, or raffle), or if you have a particular skill that you would like to put to use (e.g. marketing, event planning, design, face-painting, etc.) then we would love to hear from you. Please speak to one of the Friends team or to your Class Rep, who can put you in touch with us. We know everyone is busy, but any time you can give is greatly appreciated by Friends and the School.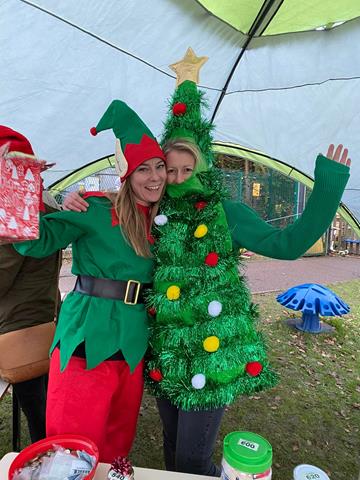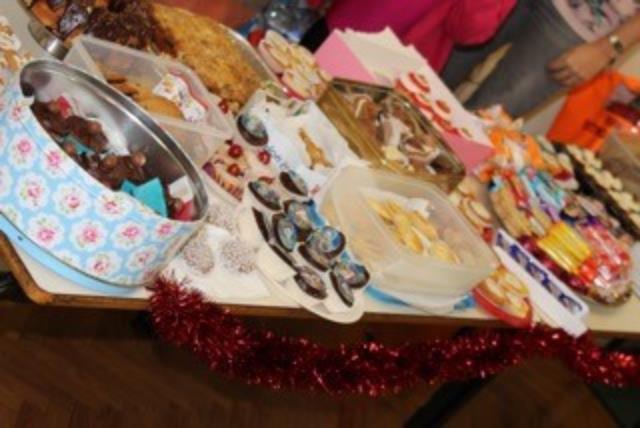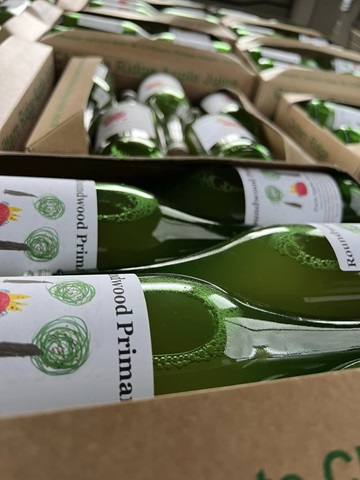 Besides help with the planning and organising of events, we also need people to help on the day. Such help can vary from baking and selling cakes, to counting laps at the sponsored walk or manning a stall at one our fairs. This kind of involvement is a great way of meeting or catching up with people and seeing first hand how much fun these events are for the children.
Summer Festival
Quiz Night
Other Ways to Support our work
There are other ways in which you can support our work as well, some requiring very little effort. We are enormously grateful to everyone who contributes their time, but also for your continued financial support, which enable us to provide much needed resources to school.
The Parent Fund
The Parent Fund was introduced for those who want to support school through voluntary financial donations. As a registered charity Friends can claim Gift Aid on these donations. All funds thus raised go directly to the school supporting vital classroom resources.
Families have donated on average £10 to £25 per month. Many parents with more than one child in the school have decided to donate more each month. We are grateful for any amount you feel able to donate regularly, especially if you are able to Gift Aid your donation. Do this and we can increase the value of your gift without any cost to you (signing up for Gift Aid means Friends can claim an extra 25p for every £1 donated and you may also be able to reclaim tax as a charitable donation).
We've made it easy to set this up. Just click on the following link to get started: https://cafdonate.cafonline.org/21842
Alternatively, you can contact Friends to obtain a form and return it to the Friends post box by the school office.
Fund Matching Schemes
If you work for an organisation that has a fund matching policy, any money you raise for Friends could be matched by your employer.
High street and City banks, building societies, supermarkets and large corporations are likely to offer match funding. However, these schemes are not exclusive to the major corporates. If you work for an independent company, they may be interested in charitable giving through fund matching too.
Please see here for further details on how to get involved in fund matching.
Easy Fundraising & Label Commissions
Friends is a registered beneficiary on easyfundraising.org.uk (please review their terms and conditions as this is an external third party site).
Once you register, every time you shop using the link, the school receives a percentage of the money you spend. It costs you nothing.
Most of the major retailers participate (ASOS, eBay, the supermarkets, travel agents, airlines, etc) and donations can be huge!
To date we have raised over £11,500 through Easy Fundraising.
Buying labels for school uniform? Why not buy them through one of the following companies that offer Friends commission (up to 30%) at no extra cost to you:
Keep up to date with Friends news
Keep up to date with news and information from Friends by:
Many thanks again for your support and we look forward to meeting some new faces!
Contact us
We would love to hear from you with ideas, comments and offers to help!
Email: friends@roundwoodprimary.herts.sch.uk
Trustees:
Chair – Floor Timmons-Smakman
Deputy Chair – Ellen Roscow
Secretary – Claire Saunders
Treasurer – Olha Fenova
Deputy Treasurer – Laura Faiz
Other committee members: Anna Bowles, Charlotte Hvass, Heidi Newcombe, Lydia Baralt, Anna Hancock, Ed Fraser, Lucy Rider, Lisa Hazleton, Isabel Jones.